New Year's Message
January 1, 2012
Dear Friends:
Happy New Year! I hope your 2011 was a good one and you were able to survive the challenges –ban pen fu gyo! Let's make 2012 a year where we don't just survive, but thrive! It's mostly up to us, you know....
2011 was an amazing year for me; many wonderful things happened – but we also lost a few more of our buyῡ around the world. That circle of life just keeps turning. I am still missing Buyῡ Dojo co-founder Mark Hodel deeply. His impact on so many Bujinkan members persists.
Mark was also the co-publisher of Robert L. Humphrey's book "Values For A New Millennium." Dr. Humphrey's Dual Life Values theory is an integral part to my and many other people's view of warriorship.
Mark Hodel's Memorial Page is here. Please consider leaving a remembrance on the comment wall if you haven't done so already – or just check in with Mark-san to say "hello, we miss you."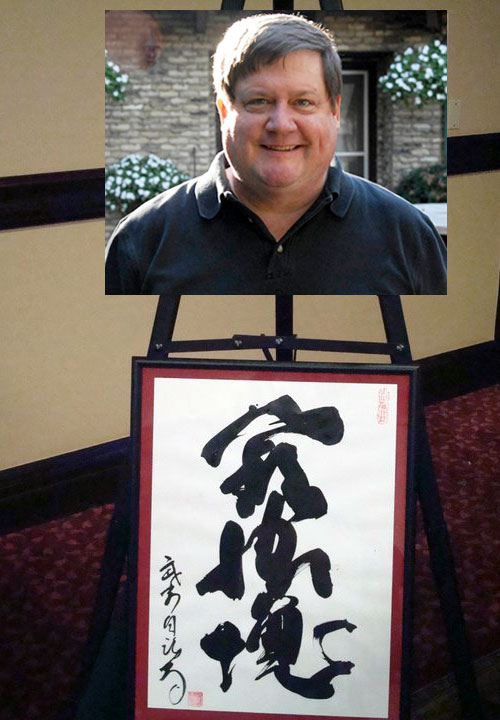 Mark Hodel 1953-2010 (Painting By Masaaki Hatsumi)
Mark, you will never be forgotten.
Sadly, we also lost longtime buyῡ Abi Allen and Kathy Baylor in 2011. Paul Fisher, Doug Wilson, a group of other friends and I attended Kathy's memorial in NYC. A beautiful, bittersweet ceremony and a training event was held in her honor.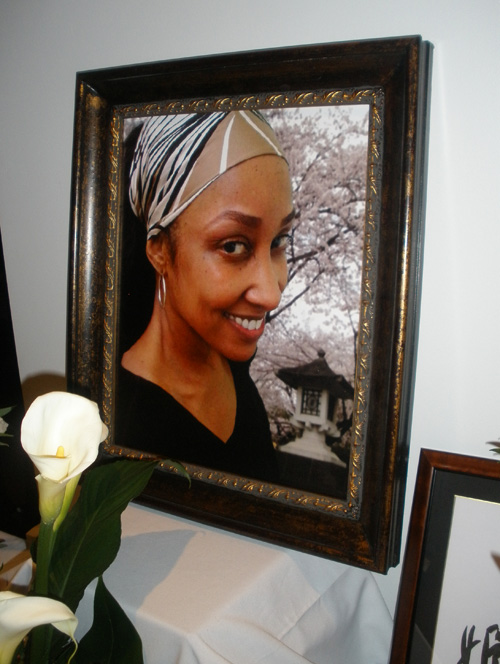 Farewell, Kathy.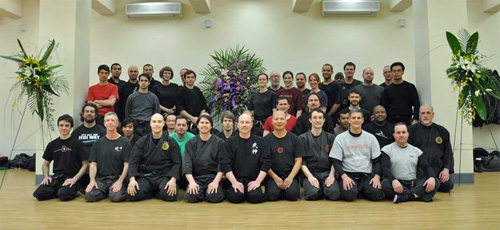 2011 was one of my busiest years ever for training and traveling. Our Buyῡ (Warrior Friends) group enjoyed a fourteenth Buyῡ Camp West in San Francisco under the Golden Gate Bridge on the Pacific Ocean, as well as, an eigth Buyῡ Camp East in New Jersey. Buyῡ Camps are a great way to connect with old friends, get valuable "continuing education," and stay inspired to "keep going" when you get back to your own training group. Click the respective Camp links for info on these yearly training opportunities – and check out the photos tab on our Bujinkan Buyῡ Facebook page to see pictures and comments.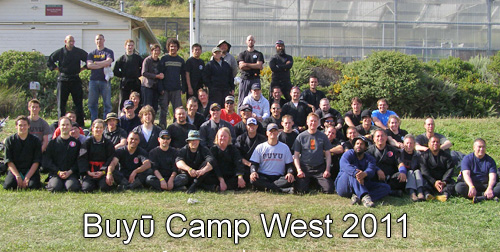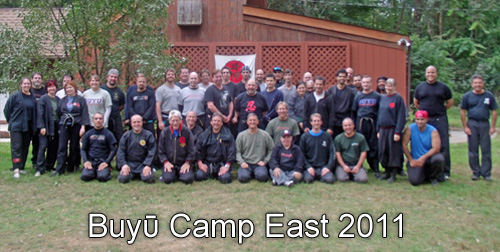 We had training seminars in NJ and California. I visited Don Smith, Paul Fisher, Ed Figueroa and the guys and gals in Florida twice. I was in Chicago with Jim Morganelli and his group, and also Mike Eichenberg.


Chicagoland 2011
2011 also featured a meet up with old friend Bud Malmstrom in NJ. Love that guy!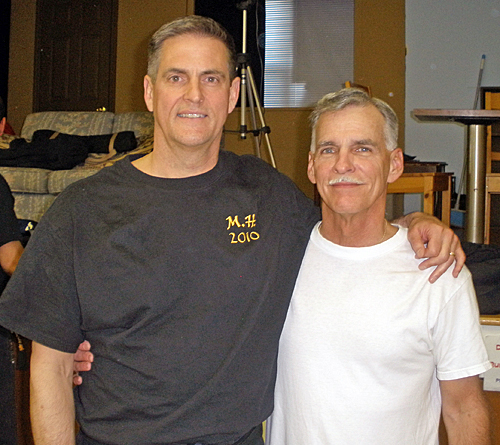 Bud & Jack - 2011
My buyῡ hermano Pedro Fleitas visited us from the Canary Islands last year.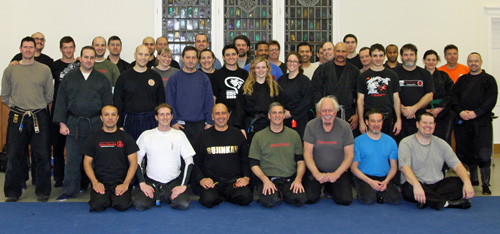 Pedro & Jack in NJ
Pedro is coming back to New Jersey in January 2012 Join us if you can! And that's not all for the international visitors; Italian buyῡGiuseppe Costa will be here in May.
We did another seminar in NJ this past summer in honor of my Marine Corps mentor, Robert L. Humphrey. We covered Humphrey's Life Value Theory, warrior ethics, taijutsu, and the challenging and fun STRIKE training. By the way, Robert Humphrey and his "Hunting Story" is referenced in Harvard psychologist and bestselling writer Steven Pinker's new book"The Better Angels of Our Nature: Why Violence Has Declined." Check it out; it is well worth the read.
If you are interested in Bob Humphrey's Life Values teachings, we'll see you at the"Ethical Warrior" seminar again next July in New Jersey.

And then there were the International seminars. I was in Germany with Steffen and SabineFröhlich, Switzerland with Phil Bradshaw, Holland with Dennis van Eenige, and Wales with Murray Taylor. The buyῡ spirit followed me wherever I went. I am very grateful for all of the friendship and great training experiences. Thank you everyone!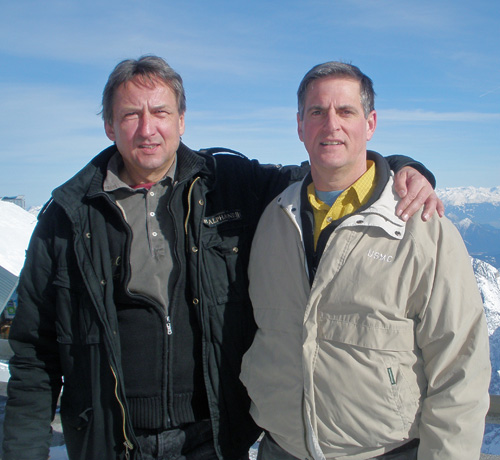 With German buyῡ Steffen Fröhlich.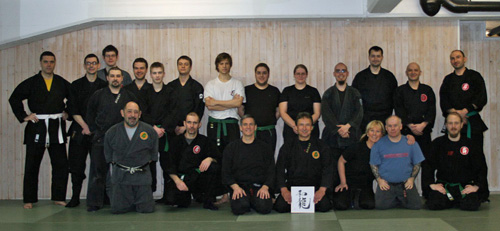 Phil Bradshaw's new Buyῡ Dojo Zürich.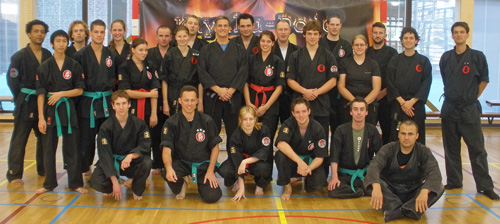 2011 Seminar, Netherlands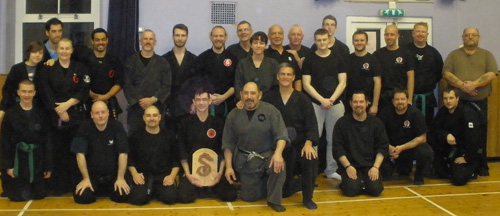 A night of training with Murray Taylor and crew in Wales, UK.
Next year looks like it will bring even more international travel. Right now I am scheduled to visitColombia,Switzerland, Japan,Germany,Argentina, Brazil, Spain, and Italy. I will travel to theCanary Islands in October to do a TaiKai with Pedro Fleitas to commemorate his 25 year anniversary in the Bujinkan. It looks like I will also be in Madrid and Sicily as part of that trip, so stay tuned.
You can consult the WIN seminar page periodically for details on all of our training events.

As for my training with Masaaki Hatsumi, I went to Japan twice, once in June...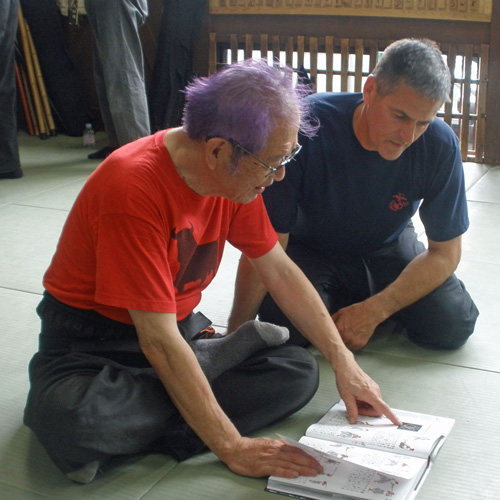 June 2011, looking at Sensei's newbook.
and, again in November/December. As usual, I attended the Daikomyosai (Hatsumi Sensei's annual 3-day training event) with many buyῡ from around the world. We trained outside one day, and the feeling under the Japanese autumn leaves was magical.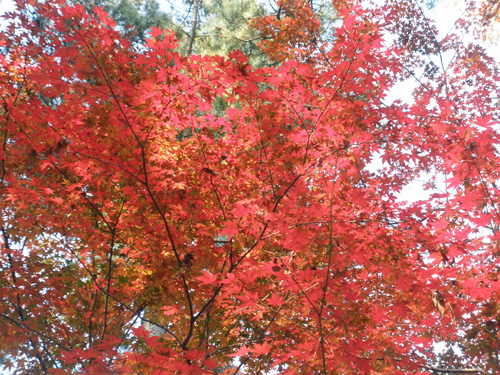 The autumn leaves of Shimizu Koen.
We moved indoors for the next two days, but the special feeling remained. This year I had a very interesting experience right in the middle of the DKMS. Sensei was verygenki and as spry as ever. On the first day his movement was great – just what we've come to expect over the years. On the second day, he was also in very good form in the morning, and again during the afternoon session from 2:00pm - 3:00pm. But from 3:00 to 3:20 something happened. He moved in ways that I thought were impossible for a human being. I just couldn't understand at all what he was doing or how he was doing it. It seemed incredible for a human being to be able to move that way. I can't really explain it, but people went flying! Pedro and I were together and when Hatsumi said "OK, play!" we just looked at each other and said "we're not even going to stand up and try to do that!" And then at 3:20pm Sensei went back to being merely wonderful for the rest of the DKMS. But I would have taken the plane flight there and back to Japan just to see those 20 minutes. Overall, it was a great trip and a great birthday party for Sensei afterward.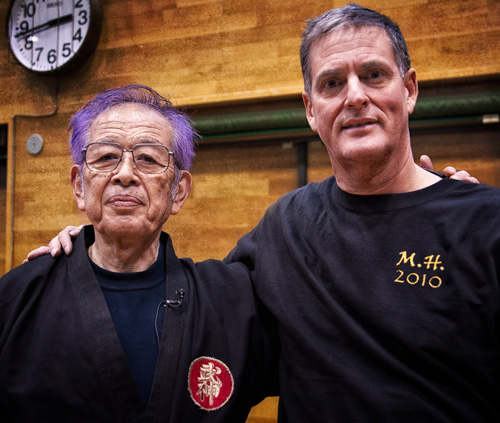 Sensei and Jack on an "interesting hair" day. Photo by Sheila Haddad
Every year it seems that our Buyῡ group grows a little more. We really have a lot of fun training and enjoying each others' company – before and after the sessions in the dojo.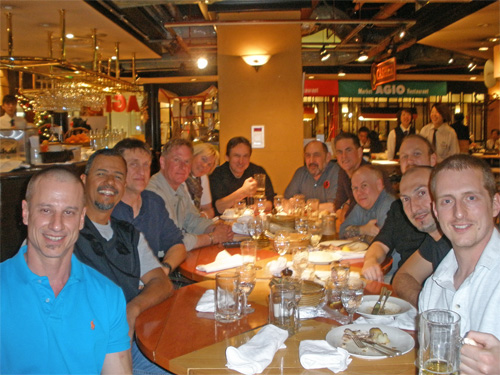 2011 Buyῡ Dinner Japan at Agio's in Kashiwa, as usual.

This past year I was again privileged to work with the Marine Corps Martial Arts Program (MCMAP) in Quantico, Virginia. This fine program is led ably by LtCol Pat Beckett, my good friend Joe Shusko (LtCol USMC ret.), and MSgt Johnny Marlowe. It covers armed and unarmed martial arts techniques, combat conditioning, mental training, and character development.
I can't say enough about these young Marines who I am privileged to train with. They are physically and mentally tough, yet respectful and ethical. Many are veterans of both Iraq and Afghanistan. The methodology we use is simple but vitally important: train a lot, talk a bit, train a lot, talk a bit. The Marines relish the physical training, and then are open to hear how to use their training and core values to maintain their ethics and a "combat mindset" under the adversity of combat. In martial arts training, it is often easy to focus on the physical part while giving mere lip service to the mental and character elements. But all three parts must go together.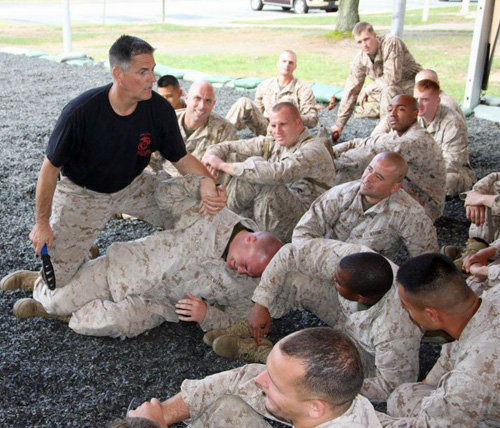 "Training" - USMC photo courtesy of Homer Brett 2011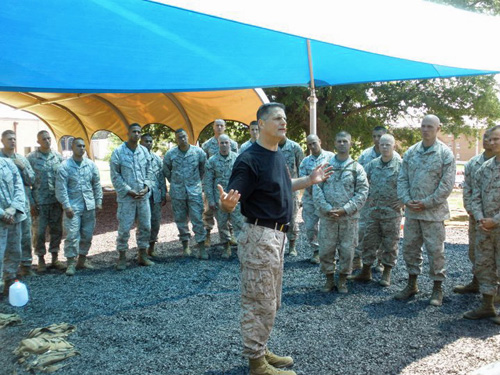 "Talking" - USMC photo courtesy of Homer Brett 2011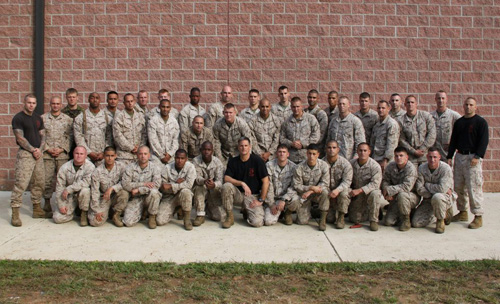 "Marine Ethical Warriors" - USMC photo courtesy of Homer Brett 2011

It seems that this concept of an Ethical Warrior – protector of life – is starting to resonate more and more with martial artists, as well as, with various military and law enforcement personnel around the world. We have compiled many Ethical Warrior articles from the Marine Corps Gazette and Bruce Gourlie and my series of articles on PoliceOne.comhere if you would like to read more. Two of the posts were especially controversial: "Are Ethics Tactical?," and "Protecting Your Enemy." Have a read and tell us what you think.
And don't forget to check out "Joe Marine" Shusko's book of values stories, "Tie-Ins For Life,"here.

Resolution Group International (www.rgi.co) is in it's second year and continues to flourish and make an impact. RGI is made up of military and law enforcement professionals who teach how to resolve conflict under stress. The RGI curriculum extrapolates on the work I have done with Robert L. Humphrey and the Marines in the areas of ethics, conflict communication and physical protection skills. We had three more RGI Conflict Resolution Courses in 2011.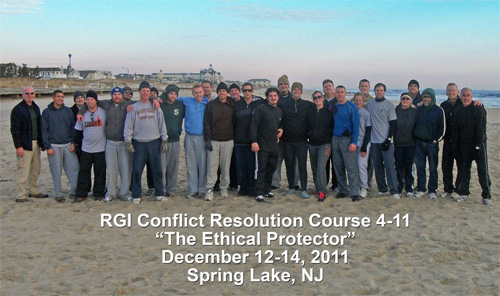 If you are interested in exploring the Ethical Warrior concept further, or learn how to apply your training in law enforcement or military scenarios– or just want to work with these interesting men in a hands-on setting, check out RGI Events. To see more training photos, you can "like us" on Facebookhere.
As a representative of RGI, I had the honor of sharing the Ethical Warrior concepts with many law enforcement professionals at the International Law Enforcement Education & Training Association (ILEETA) trade show in Chicago last April. Thanks to Gary Klugiewicz fromVerbal Defense and Influence (the new name of the late George Thompson's Verbal Judo system) for introducing me to this great organization.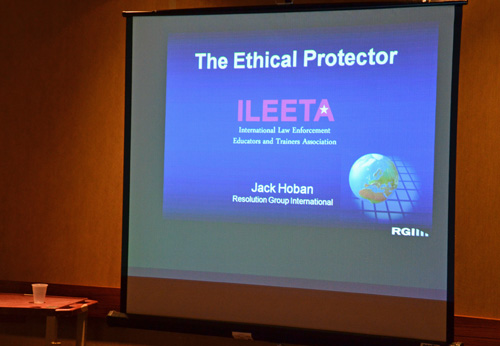 ILEETA 2011

The response has been overwhelmingly positive and I have been invited back in 2012 to teach two sessions – including one on RGI Tactical Maneuver Concepts. Inspired by Stephen Hayes' 5 element theory and the kukan principles of the Bujinkan san shin no kata, TMC teaches law enforcement officers to move tactically (using taijutsu) as they perform defensive tactics techniques. If you are interested, Jim Morganelli and I made a video on TMC; check it outhere.
I was also privileged to introduce the Ethical Warrior concept to NYPD senior leadership in two separate sessions. The response, again, was great. They even gave me a certificate!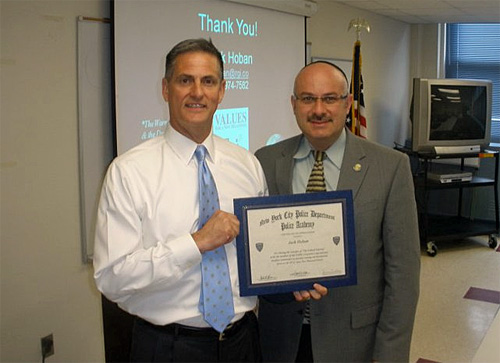 NYPD Executive Development
It looks like I will be back in 2012 to do some more training with New York's Finest. Cool, huh? What an honor!

Another fun thing I did again this year was to "train" Nick Heller from theJoseph Finder novels. It started with "Vanished;" and his latest book "Buried Secrets" came out last June. These are great thrillers – if you get a chance to pick one up, check out the fight scenes, you may recognize a thing or two. There is also a link to a discussion between Joe and me on his site if you are interested.
And thanks to Joe, I will be giving a presentation next summer at "ThrillerFest," a convention in NYC on how to write fight scenes. If you are an aspiring writer, or just a fan, please consider joining us, it should be a blast.

Which brings us to 2012. Last year was the year of kihon happo. If you recall, Sensei started out using a very unusual kanji for the term: 季翻初崩. 季 ("ki") can mean "season" or "end," 翻 ("hon") can mean "turn around" or "reverse," 初 ("ha") can mean "first time" or "basic" (it is also the first kanji of Hatsumi), and 崩 ("pou") can mean "collapse" or "break down." I am not sure I understood entirely what Sensei was getting at, but I used the feeling I did get as we trained throughout the year. I had a lot of fun going around the world practicing the basics with people based upon how I first learned them in the early 80's and then refined them over the years. We did a lot of "street-style" defense in the context of thekihon happo and a "combat mindset," which we tried to develop through a combination of ethical clarity, mental toughness, and physical training in challenging, realistic scenarios. I think we discovered that if we weren't confident using the basics in a realistic attack, it wasn't because of some deficiency in the kihon happo, it was due to some deficiency inus, and we needed more work on the kihon happo. We'll never be "done" with the basics, but I am ready to start applying them from a fresh perspective 2012.
This year at the DKMS Hatsumi Sensei announced that we would be practicing sword in 2012. He also said to me as an aside "...and guns." Sounds good to me! I am chagrined by the cavalier way we sometimes talk about sword and gun-fighting – and knife-fighting, too. In the dojo it is easy to gloss over how serious a gushing gunshot wound or a sliced open body is. Many of us would go into shock or faint if we ever were exposed to the real thing. We need to be more aware of the realities of what we are training in – it is deadly serious stuff.
Another concept Sensei spoke about was finding the "kukan no kyusho," or the critical point within the tactical space, which I thought was a very interesting consideration. Perhaps we will learn more about Sensei's idea for 2012 soon. Buyῡ Doug Wilson's blog often contains valuable insight into what Sensei is covering in Japan. Check it out here.

As readers of this yearly message know, in an attempt to maintain the "thread" that reaches to Hatsumi Sensei across the 25 year differences in our training and life experiences, I create a buyῡ theme each year to try to help "connect the dots."
Last year, as I wrote above, we explored the "combat mindset" and how to function more effectively in a real conflict. We tried to discover ways through training that would help us develop coolness under pressure, overcome the "freeze," and act decisively and ethically when thrust into a sudden violent situation. The training was designed to help us develop as protectors of life. Whose life? Self and others. Which other? All others, if possible. Killing only to protect life. This seemingly paradoxical statement – killing only to protect life – is the behavior of the Ethical Warrior. It is predator-like, in that it can be cold and professional. But the objective is to protect, not kill.
How did we do honing our combat mindset in 2011? I learned a lot, and I hope you did, too.

Which brings us to our buyῡ theme of the year 2012. As I look at my own training regimen and the fitness level of the folks I train with I come to a horrifying conclusion: we are getting older! Thinking about what it will take for us to "keep going" with great vigor and increasing, rather than decreasing, effectiveness going forward, let's put a focus on our health this year.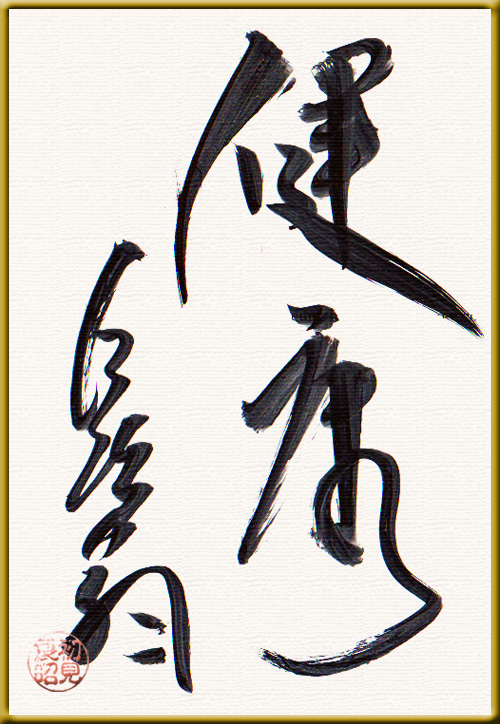 "Health" - Masaaki Hatsumi
I must admit, I did not pull this concept out of thin air. I received the calligraphy above out of the blue from Hatsumi Sensei several months ago. It made me think about my health and what it will take for me to stay strong and vibrant like my teacher, now in his 80's! So, I decided to take the hint. Next year let's focus on three things in addition to Sensei's theme:
Exercise. Anaerobic and aerobic exercise; strength and core training wouldn't hurt us either. And don't forget ninja walking!

Diet. You know what I mean.

Flexibility.
Buyῡ Jon Haas has a nice blog on health and fitnesshere. You may want to check it out to get yourself ready for this year's buyῡ theme. And speaking of health, it doesn't just start and end with the physical. As we know, the mind, body and spirit are all connected. Let's explore that connection in context of the word "health," and what it means for us as total human beings.

So this is the theme of our 2012 Buyῡ training: Warrior Health. How can we improve every aspect of our physical, mental and spiritual fitness so that we can "keep going" another year? Or indefinitely? A worthy goal, but let's not forget also to enjoy ourselves!
Happy 2012!
Jack Hoban