I think we can agree that 2020, the Year of the Metal Rat, was chaotic with many unexpected twists and turns. Once every sixty years the same year comes around, and they tend to have similar themes. Metal Rat years have never been easy, and they often brought great upheaval and change. The Ox follows the Rat in the Chinese Zodiac making 2021 the Year of the Metal Ox. Does that mean we will be experiencing more shock, chaos, and sudden change as we have in the Rat year?

Maybe!

The Metal Ox year will present its own challenges and just like the Ox itself, it will be a year of hard work, determination and building – or rather, rebuilding things to make way for something better. This year is going to be a perfect year to focus on relationships, whether we are talking about friendships or love. 2021 is going to be a year when hard work will get rewarded, but it may be necessary to double our efforts to accomplish our goals. It is said that it could be a favorable year for economic recovery and for long-term investments. The Metal Ox year is also a great year for love and making order in the family. After all, if the family life is peaceful, everything gets solved! Thus, 2021 is a year when all the problems get solved with discipline. A lot of discipline!

So, are we ready? Yes? Let's go!

But first, I need to warn you, the message this year will be a little different than other years. Most years I travel a lot and get to do some interesting things. Not so much of that in 2020. Like most of us, I spent most of the year at home. I read a lot and worked out a lot. I swam a lot in the ocean. If you didn't know, I practice yoga daily, and highly recommend you look into it as a part of your junan taiso training. Finding the right teacher is key – so do your research!

So, 2020 was mostly a year of musha shugyo – solo training. There was no Buyῡ Camp for the first time in forever and I missed the BuyῡKai in Germany. No trips to Japan, Europe, South or Central America, Florida, California, Michigan, or any of the usual places.

We had a couple of training seminars in NJ, although we had to limit the number of participants and practice social distancing. We worked a lot on bojutsu and mutou dori.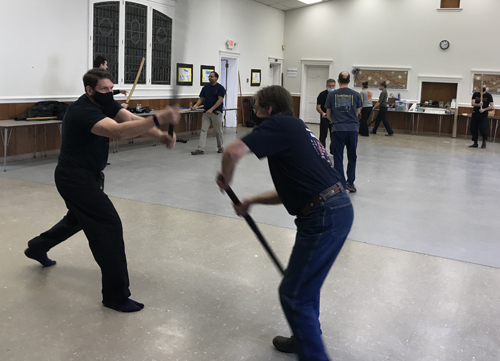 Josh and Bobby social distancing with a couple of bokken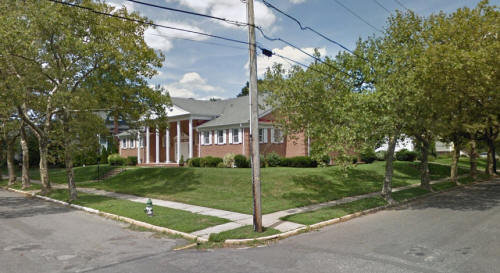 Wesley Hall – home of our Buyῡ Dojo


Hopefully, things will open up in 2021. You can see the proposed 2021 schedule here.




And we had some sad news. We lost Mariko Hatsumi, Hatsumi Sensei's wife. We all know the integral part she played in our Bujinkan Dojo. Farewell, Mariko Sensei!


And we lost another great man of the Bujinkan this past year, as well. Murray Taylor passed away after fighting off a couple of bouts of cancer. Murray epitomized the essence of buyῡ – comrade in arms. Another irreplaceable man has left us.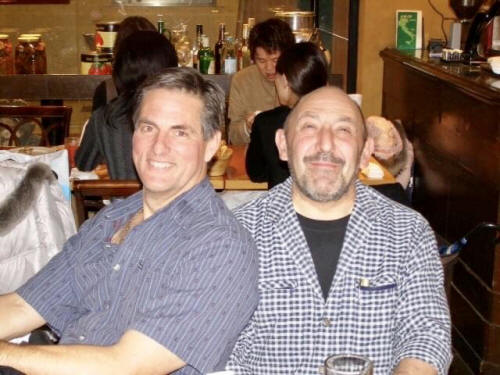 Murray – gone too soon.


Before the pandemic hit full force, I did get one trip in. I was able to get to Hawai'i where I enjoyed training again with my friend, Joe Lopez, and the dedicated buyῡ of Hawai'i Bujinkan.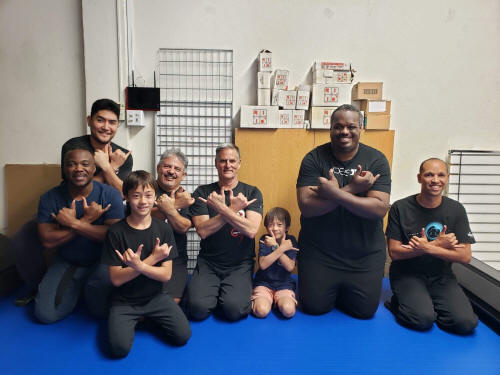 Joe and the boys of Hawai'i Bujinkan – Shaka no Kamae
Mahalo, Joe. Hope to see you soon!


I also competed in the Waikiki Biathlon again. Much better weather this year!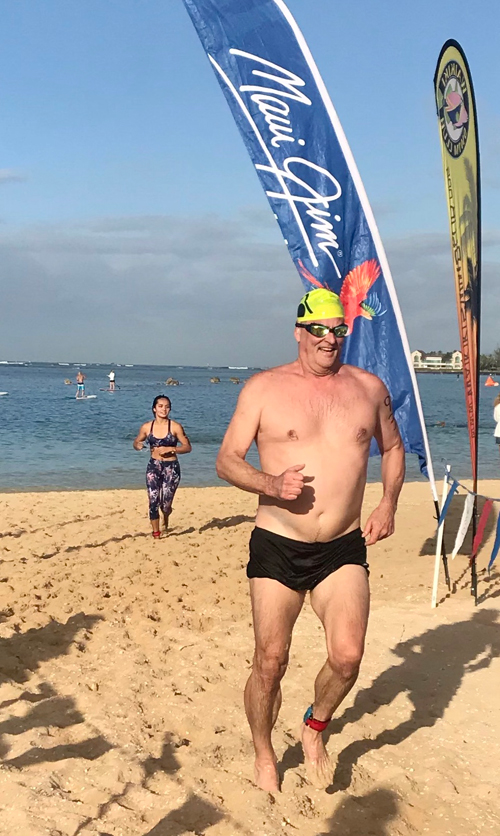 Check out the "Dad Bod," ha ha ha. It's gone now, don't worry.
Brother Joe Marine Shusko joined me for the run. Got to get him in the water one of these years!
I was invited by the nationally-recognized and wonderful law enforcement instructor, Ron Scheidt, to help teach some of our RGI de-escalation techniques to Honolulu Parole officers. I learned a lot. Thanks, Ron!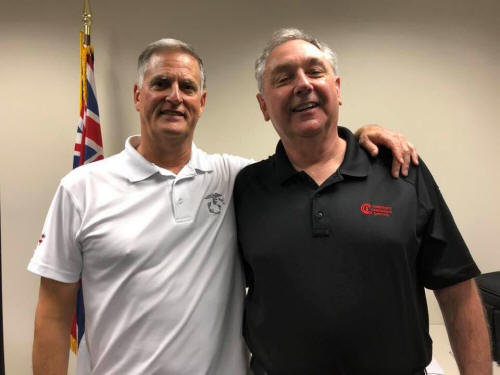 With Ron Scheidt in Honolulu
While in Hawai'i, I was again asked to come out to Marine Corps Base Kaneohe to do some MCMAP sustainment with a couple of the Marines there. We had a great time. More about MCMAP, to follow.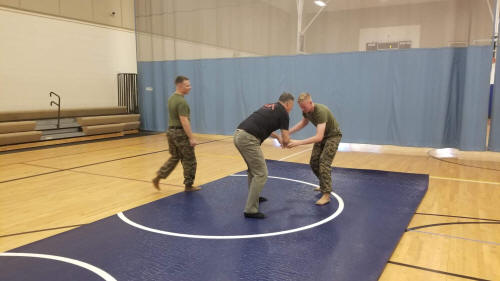 Wrestling around with 20-year-old Marines - I'm too old for this!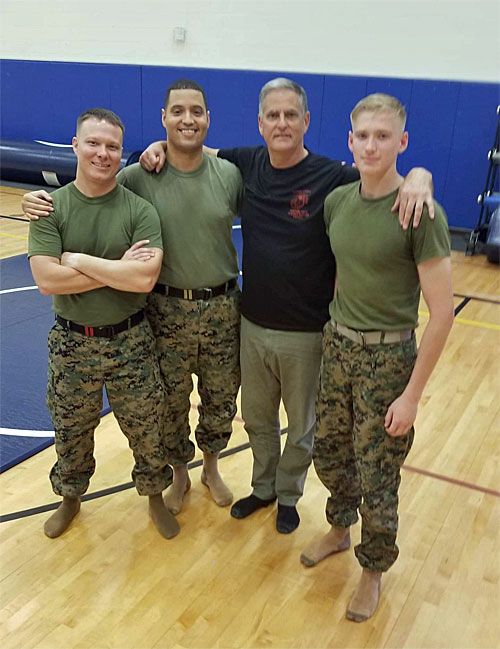 Marine Ethical Warriors of Kaneohe – 2020

Got to hang out and go bodysurfing again this year with my friend, Mark Cunningham. Mark is a legend in Hawai'i as a lifeguard and waterman. He is also a world champion bodysurfer and a wonderful artist.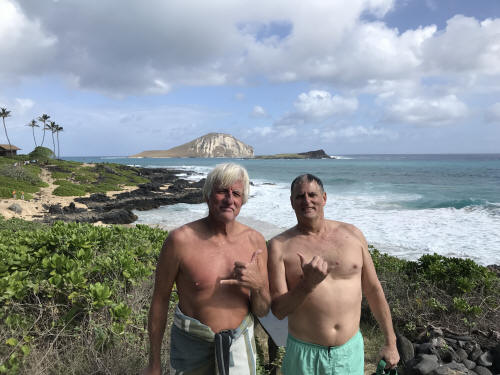 With Mark Cunningham at Makapu'u
I am lucky to be spending more and more time in Hawai'i, and it so great to have friends and my Marine brothers and sisters there to train with. Mahalo! See you in 2021 – I hope!

Speaking of watermen, I would be remiss if I didn't talk about some legendary New Jersey watermen. I swim with these guys every day all summer: Cecil Lear (90), Ken Cassie (84), Raoul Cordeau (74), and the two babies, me and Cecil's great-grandson Michael.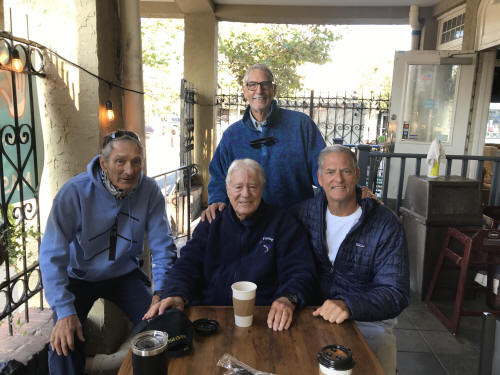 With the "boys" on Cecil's 90th birthday
They call Cecil "The Legend," because he is famous for pioneering surfing on the East Coast. We made a Waterman T-Shirt as a tribute.
As mentioned previously, I've also taken up long-distance ocean swims. Here is Alex and me at the 2020 Spring Lake 1-mile swim. (So, guess who beat who? Again!

).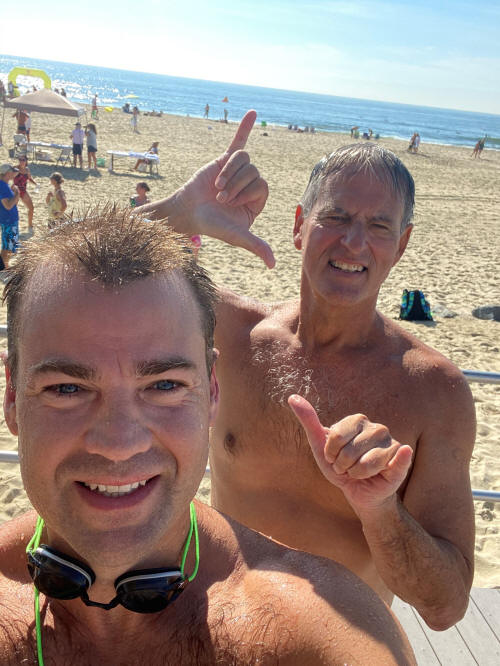 With Alex, Spring Lake 1 mile ocean race 2020



In Japan last year we shot a lot of footage for a documentary on Hatsumi Sensei and the Bujinkan. Despite the cold, rain and snow, we had fun time tracing Togakure ryu ninjutsu back to its roots with a pilgrimage to Togakushi mountain – birthplace of the Iga Ninja. You can see those pictures in
last year's message
.
Our producer Ken Lux and his director, Kim Furst have been working on it in 2020.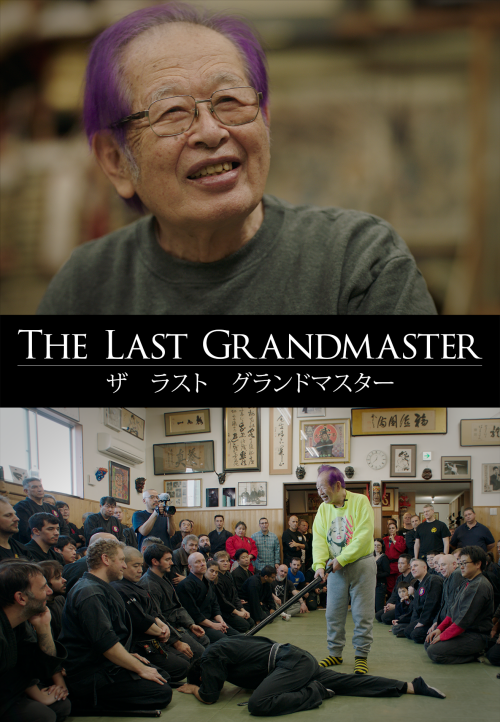 "The Last Grandmaster" Video coming soon!

The documentary is entitled "The Last Grandmaster," and is almost ready. We hope to release it in 2021. Stand by!

My book "The Ethical Warrior," is still doing well. Click the cover if you want to read the book. And, if you read the book and like it, please consider leaving an Amazon review. Thanks!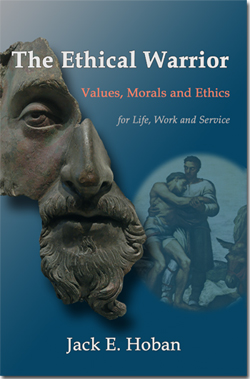 You may know that Bruce Gourlie and I wrote a follow-up book for protector professionals called "The Ethical Protector." Check it out!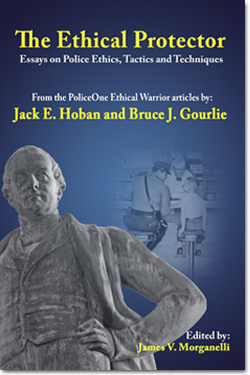 And don't forget the re-release of the old videos I did back in the 90's on Bujinkan basics. All 4 videos are now on one DVD. I had a laugh looking back at some of the footage – boy I'm getting old!
There is some pretty good stuff on there, especially for people working on the basics. And you'll see some of your favorite buyῡ on there lending a hand. You can also stream it on
Amazon.com
.

This past year I was again privileged to work with the Marine Corps Martial Arts Program (MCMAP) in Quantico, Virginia, just not as often as previous years due to the pandemic.

This important program covers armed and unarmed martial arts techniques, combat conditioning, mental training and character development.


As an American (or ally), I think you would be proud of these young men and women. They are physically and mentally tough, yet respectful and ethical. Many are veterans of both Iraq and Afghanistan. For those of you who feel called to warriorship, and are of age, consider joining them. The Marines are always looking for a "few good men." And women!

The warriors I am privileged to train with are quite physical but are also focused on how to maintain their ethics and a "protector mindset" under the adversity of war.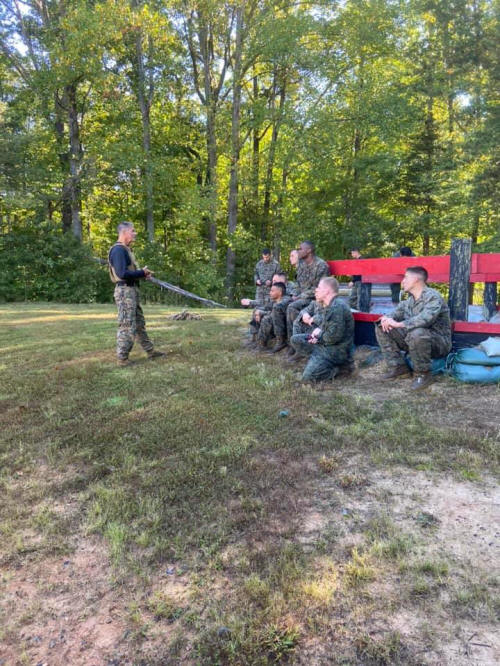 Giving a "Tie-In" during the Battle Course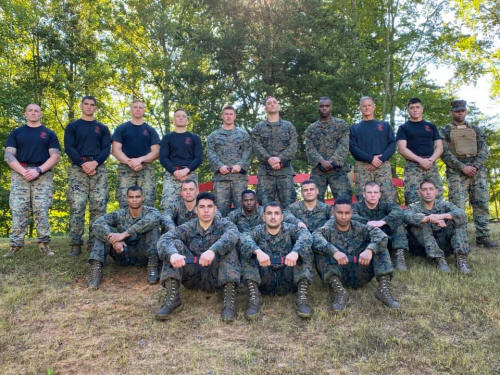 The Ethical Marine Warriors of MAIT 1-2020

And I couldn't resist sharing this:

And check out this video on our Marine Ethical Warriors if you haven't already.
Want to help our wounded warriors?



As you may know, I have a training company called
Resolution Group International
. RGI is made up of military and law enforcement professionals who teach conflict de-escalation under stress. The RGI curriculum extrapolates on the work I have done with Robert L. Humphrey and the Marines in the areas of ethics, conflict communication, physical protection skills and leadership. We had more RGI Conflict Resolution Courses in 2020 for Police Officers and Park Rangers in New Jersey. Most of which, however, were on Zoom. Adapt and overcome!
I worked with three other NJ RGI associates, Toms River NJ Police Chief Mitch Little, Pine Hill Police Chief Chris Winters, and Marine Corps Special Operations (MARSOC) Officer Alex Carney, along with the Rodgers Group and Stockton University to provide de-escalation as part of the NJSACOP Leadership Program For Middle Management. We did three more of them in 2020. And we have big plans to expand the Ethical Protector professional development program in 2021 – so stay tuned!
One interesting program we ran was a special de-escalation course that paired police officers with mental health workers to deal ethically and tactically with emotionally disturbed individuals. Dealing with the emotionally disturbed, particularly in situations that can turn violent, is a national challenge. This new approach has a lot of promise.

If you haven't already, check out RGI instructor, Joe "Marine" Shusko's book, "Tie-Ins For Life." Tie-ins are stories that teach values and inspire moral behavior. The book contains many of the values stories we tell at both MCMAP and RGI training. Available
here
.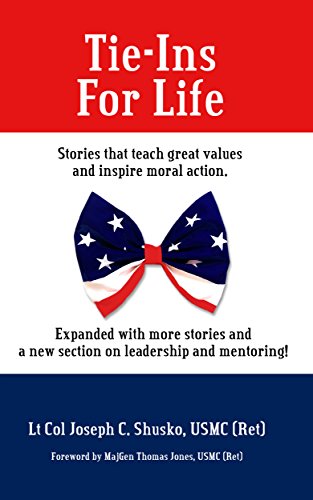 And, if you are interested in learning how to apply the Ethical Protector training as a law enforcement or military professional – or just want to explore the concept with the top-notch RGI instructors in a hands-on setting as a civilian warrior – check out RGI Events
here
.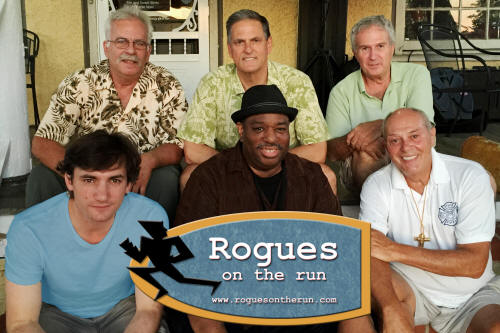 Rogues on the Run - Mario, Jack, Phil, Ilya, Vel and Rob.
In fact we only did one live gig. Here's us at UVA's in Bradley Beach. That night we had Rockin' Randy Ledet on keyboards and Bernard Purdie on Drums. More about Purdie in a bit.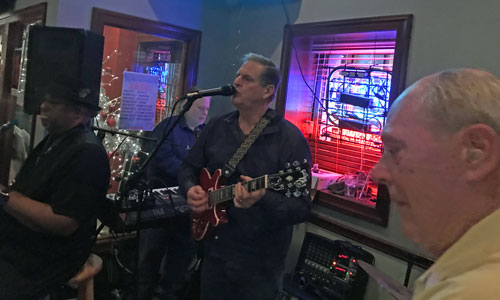 Rogues live at Uva's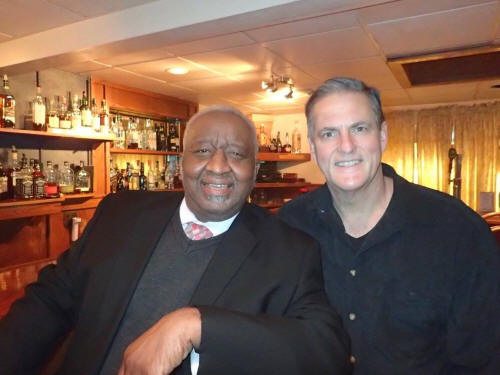 With Bernard "Pretty" Purdie

I spent most of the Covid Summer writing and recording songs for my new solo album, tentatively titled "
Blue Beach
."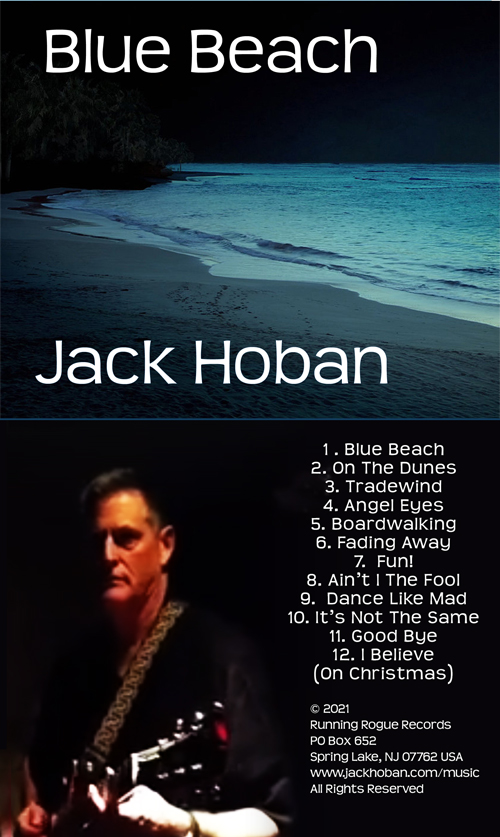 Some of the songs are pretty sad, I have to admit, but some of the best songs are. There are also a couple of fun, beachy dance songs. I promise to have it out in 2021, so get ready to dance – and drown your sorrows.

So, back to Purdie. You may know, a few years ago legendary drummer, Bernard "Pretty" Purdie, asked me to produce his next album. We are pretty much finished. I wrote songs that cover a wide variety of the different kinds of music Bernard has recorded over the years. Some top-notch (and pretty famous) musicians contributed.

Bernard has a new manager, and we are negotiating with record companies. Cross your fingers that the record will be out in 2021! (I know, I keep saying that. Hahaha. Show biz, ugh!).

And don't forget to pick up Bernard's biography. It's a wonderful read!


Another year come and gone. So, what does 2021 look like for us?
At this, the very beginning of the new year, I remind myself that it will be the year of the metal Ox. And if there is any truth to the Chinese Zodiac, it will be a year requiring great discipline. I think an important discipline will be the discipline of patience. Do you recall the five admonitions for students written by Shinryuken Masamitsu Toda, the 32nd Grandmaster of Togakure Ryu Ninjutsu?
The 5 admonitions for students - Shinryuken Masamitsu Toda (1818-1909)
The very first is: Know the wisdom of being patient (literally, the characters are: Nintai meaning patience, Mash meaning to begin with or first of all, Ippuku meaning a little break for drinking tea. To is like. Shire is know. So, it may mean, "learn that patience is like taking a little break for a cup of tea."). I think of it as: "be patient when there's nothing you can do about what is happening." Of course, that is my interpretation. What's yours?
I believe we are now in a time of great social upheaveal. Whether it is the virus or intrusive technology or even a sea change in the flow of humanity – or maybe a combination of all these things and more – it sure feels as if profound change is upon us. And there is little we can do as individuals to stem the tide. We must be patient and go with the flow. And survive. All watermen know that, when you get caught in a rip current, fighting against the flow may mean death by drowning. Counter-intuitively we must swim with the current – even though it seems as if the flow is taking us in a direction we are afraid to go. We must trust that, at some point, the current will subside, and we will be able to swim safely to shore. When all the changes going on now normalize somewhat, and humanity is in a new place, we can reorient ourselves and move forward in our own individual ways.

The second discipline I think we would be wise to exercise is captured in the saying: Ban Pen Fu Gyo (万変不驚), sometimes translated as: "10,000 changes; no surprises."
It is the discipline to be observant and ready for anything. Did anyone anticipate what would happen to the world starting in the winter of 2020? Maybe some did – but most did not. How could they? But some people weren't frozen with surprise; they adapted quickly.
This, I think, goes back to what we were talking about last year. Do you remember? Maybe you'd like to review last year's message. It is
here
.
But to reiterate a bit of what I wrote: the brain is made up of three basic parts or functions. We have the stem or "reptilian" part of the brain. It is the "oldest" part of the brain and it controls our autonomic functions (breathing, heartbeat, etc.), as well as, our "instinct-like" behaviors – fight or flight, for example. Then we have the limbic part of our brain. It's where our feelings and emotions "reside." Last, we have the neocortex, or as the name suggests, the "newest" part of the brain. This is where we can solve complex problems and make rational decisions. We need all three parts, certainly, but it is the neocortex, and the ability to access it under stress, that is ultimately the most vital functioning area of the brain for warriors in times of great danger and stress. I believe we are poised at one of those times (although I hope I'm wrong). So, what does our reptilian brain want to do? It wants to flee or freeze! That is, swim against the flow and drown, or just sink and drown. How about the limbic brain? It's not helping, its panicking and screaming mindlessly.
If we listen to either of those brains, we're going to drown. So, we need to somehow override them. I call it toggling. We need to toggle "forward" to our neocortex, because the secret to our survival in this potentially deadly time is to do the counter-intuitive thing and swim purposefully with the current, our rational brain turned up to high, ready to adapt and overcome anything.
As I said at the very beginning, this message is a little different this year, Typically I am quite optimistic, and I suggest a way forward. Right now, I am only cautiously optimistic and I have no plan to share. I will observe and adapt.



This next piece may sound a bit cryptic, but I have to leave it up to you to connect the dots. It concerns the Dual Life Value of human nature, as posited by my mentor, Robert Humphrey in his book, "Values For A New Millennium." If you are a reader of this yearly message or have trained with me, you know this theory. If not, I suggest you check out Dr. Humphrey's book
here
.
In a nutshell, Dr. Humphrey said that human beings have only one absolute value – the value of life. Don't overthink it. We all have the Life Value or we wouldn't be alive. How could we have any other values at all if we weren't alive? All other human values aside from the Life Value are relative (even the "great" moral values) and must be qualified by the Life Value before we can know whether they are truly moral or not.
For example, the Marine Corps core values are: honor, courage and commitment. They are great values, don't you think? What could possibly be wrong with them? Nothing is wrong with them…as long as they are tied to the Life Value. Think about it. Without the qualifying, foundational value of Life, courage can become foolish martyrdom; commitment can become irrational fanaticism; honor can become self-righteousness, or conceit and disrespect for others. These are what may be called moral value "misfires." They have misfired, because they have ceased to be supportive of the Life Value of self and all others.
So, life is a dual value – it is the value of our life, balanced by the value of the life of all others. Why all others? If the life of all others didn't have equal value (thus the concept of human equality) then life itself would be a relative value. And that's the slippery-ist of slopes, always leading eventually to conflict, violence and, ultimately, death. Read my book,
The Ethical Warrior
, if you need more on that.
But for now, let's concede that life is an absolute value, and a self-others dual value.
As I said, The Life Value is a balanced value. There is almost a tie between our "self-preserving" and "species-preserving" inclinations. So, what is the rule? Is one side primary? Self or others? The answer is: It depends. Would you protect your own life? Yes. Are there times when you would risk your life to protect someone else? Yes. When a ship sinks, would it be correct to yell "every man for himself?" Could be. How about, "women and children first?" Also, could be. So, which side of the duality is stronger? Which action is more correct?
It is empirically evident that, when it becomes a matter of life and death, as a rule, we humans value the ethic: "women and children first," over the ethic: "every man for himself." Think about it, what do we call people who save themselves? We call them survivors. What do we call people who make sure the less capable people are in the lifeboat before thinking to save themselves? We call them heroes, don't we? This reflects a common acknowledgement that we all generally cherish those people who serve others over self. You may have heard a qualifying statement to the effect that "I should protect myself first, or how could I be capable of helping others?" But many of our most cherished heroes did not do that. They sacrificed themselves for others.

The dual-nature of the Life Value, with its slight tilt toward others in times of trouble, is well recognized in all cultures. Isn't it true that virtually all of us admire those who protect others, especially at the risk of their own lives?

The willingness of human beings to sacrifice or even give their lives for others expresses a deep self-giving/species-preserving drive. Self-preservation is a powerful law of nature, but protecting others (especially – but not exclusively – loved ones) is even stronger. And the Dual Life Value is a wonderful, organic balancer. In good times, its perfectly OK to be a little self-indulgent. But, in bad times the best of us rally together to help others.

And that's the bright side of human nature; the omote, if you will.

But, as in all things, there is also the ura: the dark side. It is the way the Dual Life Value can also be used against us. In this time of great change, the good, others-protecting side is a proclivity that puts us at a possible disadvantage to those who would seek to control and dominate us.
And this is how it is done...
All someone has to say is: "You are selfish." And boom! We feel bad. Even if it is not true! We are on the defensive. We have been branded as having violated the Dual Life Value's natural tilt toward species preservation. We are bad people, and it is "moral" for us to be marginalized.
And all they have to say to take the high moral ground is: "We are generous." Even if it isn't true! And boom, boom! They are our superiors and have the right to look down on us, disrespect us, marginalize us.

Use that strategy with a backdrop of an emergency, any emergency, even a manufactured emergency (war, economic troubles, rioting in the streets, a pandemic – you get my drift) and it becomes even more effective. I've heard this said lately: "You are being trained to view your individual freedoms as selfish." Have you heard this?
I plan to learn more about the effect of positive and negative Life Values reinforcement on the brain, but I suspect that when you tell someone (or even yourself) that you are generous, a pleasure chemical like endorphin or dopamine is released in the brain and you feel good. Even if you aren't really that generous. And the opposite occurs when you are told (or believe) that you are selfish. Perhaps, a chemical such as dynorphin is released in your brain that makes you angry and depressed. And on the defensive – handicapped to refute the accusation or fight back. Even if you are not particularly selfish.
Think how valuable this knowledge of the Life Value can be to evil people who wish to build allies and marginalize enemies. Paint your enemies as evil and selfish; tell your followers they are righteous and generous. Boom! It works so well – even if the people being manipulated really don't understand what is being done to them and how. Hitler was a master. And Stalin. And Mao. And Pol Pot. Who else?
Again, you connect the dots. But, beware. I believe it's happening on a grand scale right now – ostensibly, with the best of intentions by powerful people who may truly believe they know what's best for the world. And you. They don't. But, there is confusion as to who the good guys and the bad guys really are. Be self aware, don't be fooled, don't be manipulated. And don't be surprised that it is happening. Ban pen fu gyo!
And that is our theme of the year: many changes coming, but no surprises for us. Train hard, be alert, be adaptable and keep going. There will be light at the end of this tunnel. Or, to mix the metaphor: keep swimming!
Ganbarimashou!
Jack